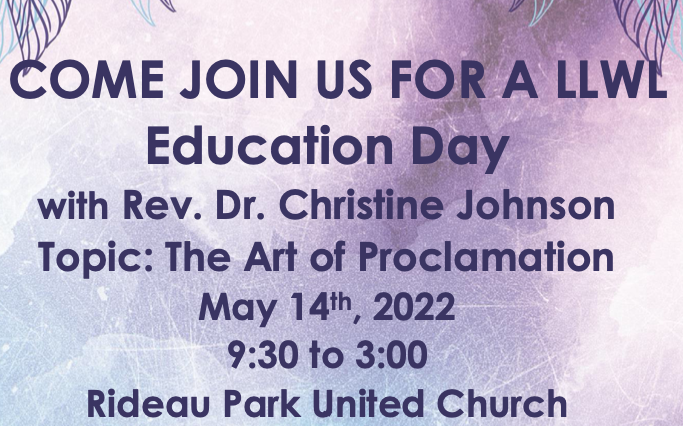 Download Poster: LLWL Workshop may 14th, 2022
LLWL REGISTRATION INFORMATION Please register via email to llwlregistration@outlook.com or via telephone to Sharon MacDonald at 613 279 3224. Please include your name, email or telephone number. Please indicate if you would prefer a vegetarian meal.
Rev. Dr. Christine Johnson's Workshop details:
I spent some time with you on Nov. 16, 2019 talking about preaching as proclamation.  I'd like to take that one step further and discuss how our society uses proclamation in its messaging and how that might influence our preaching.  Then, we'll take some time to do some practical analysis of our own preaching in an interactive format.
The Art of Proclamation: In the first half of our day-long workshop, we'll explore how our culture uses proclamation in various disciplines including the political, scientific, medical, social media, and entertainment spheres. Can any of these methodologies be applied to the preaching act? By strengthening our own voices, our message becomes clearer and more relevant to a culture drowning in information.  The process of creating clear messages takes time and effort and a deep understanding of the Christian way.  We'll spend some time trying to define our kerygma:  in other words, what we need to say in order to create goodwill.
The Art of Being a Proclaimer: In the second half of our workshop, we'll discuss in one large group and in smaller breakout groups, the "how" of expressing our kerygma.  With references to the examples shown in the morning, we'll seek to imagine different strategies to create clear and concise proclamation.  Each participant will be asked to bring four copies of a preaching manuscript in order to share in a small group. We'll spend some time analyzing and critiquing them through this new lens.