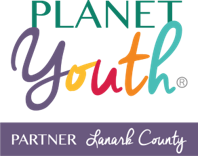 Learn How Community-Based Actions Can Prevent Youth Problematic Substance Use
On Thursday, November 24th, Planet Youth Lanark County and the Carleton Place Municipal Drug Strategy are co-hosting a Community Action Meeting at Zion-Memorial United Church. It will provide an opportunity for residents to learn the results of the February 2022 surveys of Lanark County grade 10 students. Reports about substance use, physical and mental health, physical activity, family and school experience, internet use, etc. are available for each municipality.
The goal of the reports is to provide information that helps each Lanark County community address selected risk and protective factors. The meeting will also be a chance to hear how strategies implemented in other communities are making a measurable difference in supporting healthier communities for children to grow up in.
The meeting has been designed for youth, parents, school staff, youth leaders, community organizations, municipal staff & councils or anyone who wants to learn and share ideas and/or use their skills to help with preventative activities in their community.
To attend this meeting, you can join virtually or in-person at 7:00 to 8:30 p.m. at Zion-Memorial United Church in Carleton Place. Register Online !
Prevention is possible! For more information, visit www.planetyouthlanark.ca.