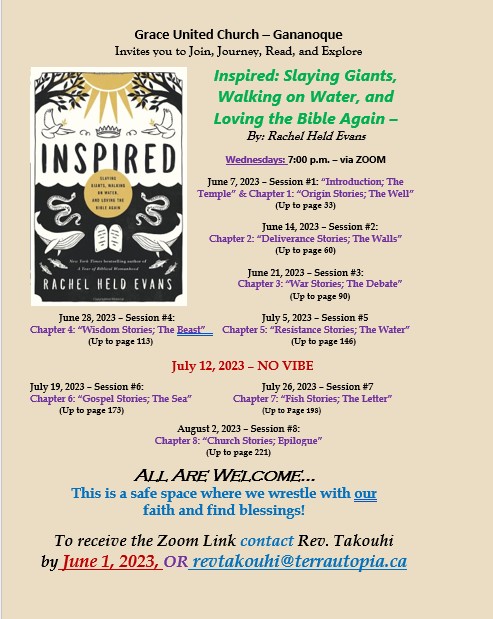 Dear Friends,
I know life is full of commitments and different things that need our attention, however I want to inform you that our next book adventure (V.I.B.E. – Venturing in Biblical Education) Begins June 7, 2023 and ends August 2, 2023. 7 P.m. on Wednesday evenings on ZOOM.
The Book is: Inspired: Slaying Giants, Walking on Water, and Loving the Bible Again: Evans, Rachel Held: 9780718022310
Very sadly, Rachel died at the age of 37, in May 2019, but her work still speaks volumes, and I am certain it will speak volumes for a very long time. .
She writes this book as her experience of the Bible and NOT a Scholarly position, even though she was an amazing scholar as well.
Would you join us and invite others to join as well? This is a safe space to wrestle with our faith and Live the Questions together…
You do not need to be there at every single session, should other commitments arise…
To receive the Zoom link, please inform Rev. Takouhi by June 1, 2023. revtakouhi@terrautopia.ca
May Blessings of Unity and Peace abound,
Rev. T.