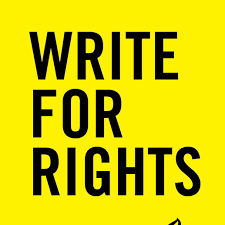 On Saturday December 10, Riverside United Church, Ottawa (3191 Riverside Dr.) will be hosting its annual AMNESTY INTERNATIONAL Write-4-Rights event The event will run from 9 a.m. until noon. Come when you can; stay as long as you can; write as many letters as you are able.
We would ask that anyone coming wear a mask.
Along with paper and envelopes, lots of assistance will be available.
Please bring stamps for the letters you intend to write.
The 2022 theme for the 10 cases is the right to protest peacefully, the right to express one's opinion, the right to peaceful assembly.