EOORC 2021 Online Winter Meeting, February 27, 2021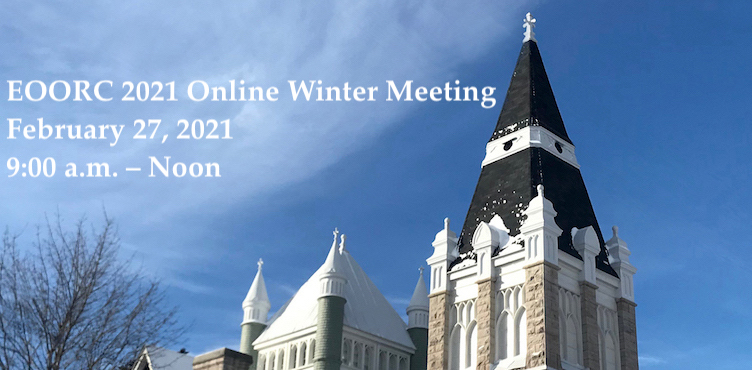 EOORC 2021 Online Winter Meeting
Join colleagues in the spirit of camaraderie and friendship
Participate in one of three workshops
Engage with each other while we discuss how to go about the business of "being a church" during this prolonged crisis.
Enjoy, learn, sing, worship together
Draft Agenda

Download Draft Agenda
9:00 – 9:15                   Gathering Time
9:15 – 9:55                   Worship
9:55- 10:00                   Break and transition to workshops
10:00 – 10:55                Workshops (meeting attendees will choose one)
Workshop 1     Cultivating Calm: When you can't normalize the situation, can you normalize yourself? – Diane Strickland
Workshop 2     Bypassing the pandemic: Community Connection During These Times – Rev. Eric Lukacs and David Patterson
Workshop 3     Steps to Regional Councils Becoming an Affirming Ministry – Linda Hutchinson
10:55 – 11:00               Re-grouping Time
11:00– 11:30              Annual meetings and annual reports in your pastoral charge – Rev. Rosemary Lambie
11:30 – 12:00               Closing Remarks and Blessin
Speaker Bios
Linda Hutchinson
Linda, a United Church member by birth and by choice, has worked/volunteered at all levels of The United Church of Canada with children, youth and adults, mainly in the areas of Resource Ministry and Affirm United's Affirming Ministries Program.  She is a member of Sydenham Street United Church in downtown Kingston, ON, an Affirming Ministry since 1999, was a member of the Bay of Quinte Conference Affirming Ministries Action Group from its formation in 2007 to 2018 when UCC restructured, and has been a Coordinator of Affirm United's Affirming Ministry Program since 2012.  Linda and her spouse, Bruce, have two adult children and four grandchildren.
Diane Strickland
Diane Strickland, ordained for 33 years, is a Community & Workplace Traumatologist, Compassion Fatigue Specialist–Therapist and Critical Incident Responder. She is retired in The United Church of Canada, meeting special emergent needs (like supporting ministers and ministries during a pandemic) and maintaining a small practice working with people at a crossroads in life. She has a B.A.(hon.) First Class from Queen's University and an M.A. and an M.Div. from The University of Toronto. Diane lives seven winter months in Calgary, AB, and the five remaining months on three acres just north of Brockville in the hamlet of Algonquin
Diane Strickland, M.A. M.Div. O.M. (ordained for 33 years) is also a Certified Community & Workplace Traumatologist, Compassion Fatigue Specialist–Therapist and active as a Critical Incident Responder for a national health service provider. Her ministry has included providing post-disaster support on behalf of The United Church in Canada in High River, AB for eighteen months after the floods of 2013, and monthly flyin/flyout in Fort McMurray for nearly two years after the wildfires of 2016. Diane is a retired minister who responded immediately to emerging needs in the pandemic by providing free Youtube resources. She has continued to create workshops and develop resources to support ministers and communities of faith in this challenging time. Before the pandemic curtailed in-person worship and air travel, she had begun serving remote ministry locations for Advent, Christmas, Lent and Holy Week. Diane hopes that the pandemic restrictions will be over before she's too old to keep on having these wonderful ministry adventures. In the meantime she quilts, walks her border collie and maintains a small practice supporting people.