EOORC 2021 Online Winter Meeting, February 27, 2021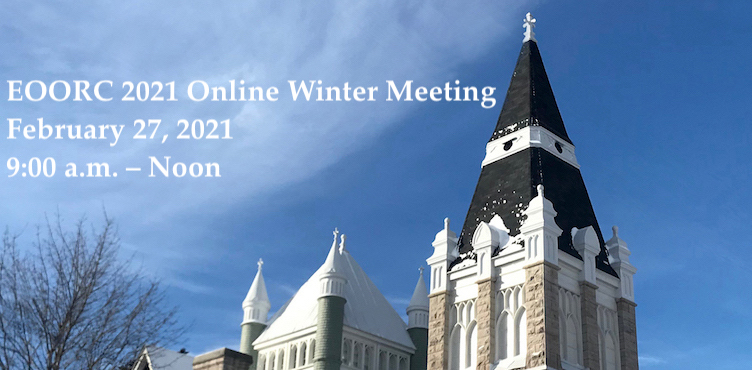 EOORC 2021 Online Winter Meeting – Resources
Thanks to everyone who attended and participated in the 2021 Winter Meeting. It was a great success!
Below, please find links to resources and videos of the material presented at the meeting.
MEETING EVALUATION
Please take a few minutes to fill out the evaluation form.
CLICK HERE FOR THE EVALUATION FORM
Speaker Bios
Linda Hutchinson
Linda, a United Church member by birth and by choice, has worked/volunteered at all levels of The United Church of Canada with children, youth and adults, mainly in the areas of Resource Ministry and Affirm United's Affirming Ministries Program.  She is a member of Sydenham Street United Church in downtown Kingston, ON, an Affirming Ministry since 1999, was a member of the Bay of Quinte Conference Affirming Ministries Action Group from its formation in 2007 to 2018 when UCC restructured, and has been a Coordinator of Affirm United's Affirming Ministry Program since 2012.  Linda and her spouse, Bruce, have two adult children and four grandchildren.
Eric Lukacs
Rev Eric Lukacs has been ordained for over 15 years, most notably serving in Harrington Harbour pastoral charge officially for three and a half years. His first career was in business development and strategic planning, after having graduated with a first degree in Communications studies.. He is currently completing his Master of Counselling at St-Paul University in Ottawa and expects to certify as a Psychotherapist some time in 2022.. In 2012, he obtained his construction contractor's license and is the owner of Cuisines Chez Soi in the Eastern Townships of Quebec, managing financial and regulatory affairs at a distance. Eric is the architect of a pilot church alliance model that helps smaller churches maximize their potential. He is passionate about compassionate, faithful and faith-filled communities and brings a down to earth approach to all things church. He is the proud father of two children who reside in Montreal.
David Patterson
David Patterson is lifelong member of the United Church of Canada and  currently a member of Orleans United Church and an LLWL member. He is also a representative of Orleans United Church with EOORC. David was a project manager for a federal government department for forty-six years, where he was involved with communications. His principal work experience included video conference systems, closed-circuit security protective systems, command and control systems and video production. As part of Orleans United Church, David has been involved with the audio-visual system, which consisted of installing a three-camera video production system with live streaming and recording hardware and software for church services, including weddings and funerals. Now retired, he has been volunteering as a consultant, assisting churches in the Ottawa area with audio visuals system. His goal is to encourage congregations to make good use of audio-visual systems in communication with their members and their community. David's goal for this workshop is to share information, experience and knowledge with the congregations, clergy, and technical volunteers.
Diane Strickland
Diane Strickland, M.A. M.Div. O.M. (ordained for 33 years) is also a Certified Community & Workplace Traumatologist, Compassion Fatigue Specialist–Therapist and active as a Critical Incident Responder for a national health service provider. Her ministry has included providing post-disaster support on behalf of The United Church in Canada in High River, AB for eighteen months after the floods of 2013, and monthly flyin/flyout in Fort McMurray for nearly two years after the wildfires of 2016. Diane is a retired minister who responded immediately to emerging needs in the pandemic by providing free Youtube resources. She has continued to create workshops and develop resources to support ministers and communities of faith in this challenging time. Before the pandemic curtailed in-person worship and air travel, she had begun serving remote ministry locations for Advent, Christmas, Lent and Holy Week. Diane hopes that the pandemic restrictions will be over before she's too old to keep on having these wonderful ministry adventures. In the meantime she quilts, walks her border collie and maintains a small practice supporting people.