EOORC United Church Women
The UCW's mission is to love God; foster Christian commitment, faithfulness, and spirituality; and promote respect and love for all God's creation.
Any woman "willing to contribute her prayers, gifts, and services for the work of the Church" may join the United Church Women (UCW). Along with providing important networking and social bonding opportunities, the UCW has led discussions on, for example, feminism and restorative justice. Indeed, says former Moderator Jordan Cantwell, United Church Women are the "hands and feet" of the church.
The EOORC has UCW units in geographic areas from the four former presbyteries :  Seaway Valley, Ottawa, Four Rivers and Upper Valley.
For more information contact
Kim Baird:  bairdjk4@gmail.com.   613-362-0640  or
Linda Stronski: rstronski@cogeco.ca  613-283-3002
Meeting Minutes
Statistical Reports
STATISTICAL REPORTS
Each year, prior to the National Annual General Meeting in September, the United Church Women are tasked with taking a count of UCW members. To this end, there is a roll-up process for the completion of forms, with deadlines at each step. For more information on why these statistics are gathered, please the attached document Every Number Counts: Every Number Counts – WUC Chinook Winds & Northern Spirit AGM 2022
The deadline for units/individual members to submit their statistics to the Presbytery/Area secretary was March 8.  The form to complete is Stat Report Presbyterial-Alternative 2021 UCW (1).  Please complete the contact information at the bottom of form in order that UCW units or individual members will know to whom to return the form.
EVENTS
National UCW 60th Anniversary
This celebration will be held at the Membertou Trade and Convention Centre in Sydney, Nova Scotia, July 11 – 15, 2022.  Online registration ($400, covers meals) is available at ucceast.ca or the National UCW page. Special rates will be available at several area hotels, and a $400 grant is available from NUCW – apply online.  More Information
UCW Summer Event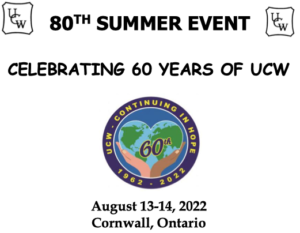 More information and registration
QUIN-MO-LAC CAMP Weekend Bay of Quinte UCW
See poster: QML Poster 2022
Registration Form: QML Registration Printable 2022