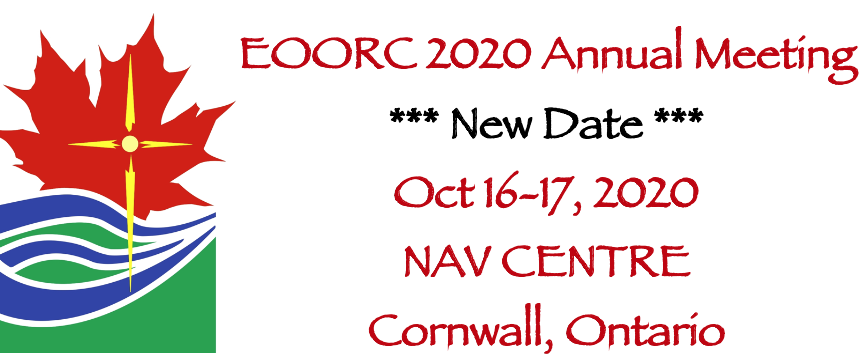 The date for the EOORC Annual Meeting has been changed!
The 2020 Annual Meeting of Eastern Ontario Outaouais Regional Council will be held in Cornwall, Ontario on Friday October 16 and Saturday, October 17 at the Nav Centre  A Celebration of Ministry Service will be held at Knox St Paul's United Church, Cornwall on Saturday evening.
An Invitation
This invitation will be updated soon.
It is my pleasure to invite members of the EOORC  to the 2020 Annual Meeting being held May 1 – 2 at the Nav Centre in Cornwall, Ontario. The theme of our meeting will be, To Live With Respect In Creation. This is a theme inspired by our times and is reflected in different ways by many Regional Councils across our country. Former Moderator Stan McKay has agreed to be our preacher, theme speaker, and theological reflector. Stan is Cree from Fisher River in Northern Manitoba. He was Moderator of the United Church from 1992 to 1994. He called us to add the words "to live with respect in creation" while presiding over General Council in 1994.  I invite you to come and share in Stan's gifts of teaching and wisdom. The main topic for our policy discussion is around our mission statement. Starting with the document that our commission formed, we will come together to find our way to a mission statement that will guide us all. In addition, there will be great music, many interesting presentations and displays, in an attractive and welcoming environment. Hope to see you there!
Bronwen Harman, President EOORC
Youth Program
Youth and Young Adults at the 2020 Annual Meeting  will meet for two days of learning and engaging in conversation and action to help deepen our faith through community and connection. More information coming soon.
Get Ready For The Meeting!
Here are a few things you can do and be aware of to make your time at the 2020 EOORC Annual Meeting a safe, comfortable, and memorable experience.
Please use the registration form provided on this site to book your rooms. To find out more about rooms and facilities at the Nav Centre, visit thier website.
WIFI There will be WIFI at the Nav Centre but we strongly suggest you download any documents that will be needed for the meeting before you arrive at the meeting.
Photographers and videographers will be on hand to record the events of the day. If you do not wish to appear on video or in a photograph, please let a steward know.
Candidates for UCC Ministry
Information coming soon
Registration is open until September 14, 2020
Registration is open until September 14, 2020. You can register for the meeting and book your rooms on the same form. Please DO NOT phone the Nav Centre to book your rooms. 
Food and Accommodation Costs
The meal plan is $125.00 for two days for Adults and Youth age 13 and up, $62.50 for children (ages 6-9), $62.50 for youth up to age 12,  and Free for children 5 and under. (Youth can apply to YAYA for a subsidy to offset the cost.) NOTE: There is a limit of 2 children per adult for the discounted price and complimentary meal. It includes lunch and supper on Friday, and breakfast, lunch and supper on Saturday, plus coffee during breaks.
If you are attending the meeting, you cannot opt of of the meal plan, since it is part of the fee for attending the meeting. The selection for food at the Nav Centre is wide, varied, and very good.
Accommodation:
Standard Rooms – 1 Queen bed – $120.00
Deluxe Suites – 2 Queen beds – $145.00
Superior Suites – 1 king bed and a pullout sofa – $155.00

There are also five Accessible Rooms available at the Standard Room cost.
This information will be updated soon. For those wishing to come on Thursday evening instead of Friday morning, you are invited to join Knox-St. Paul's United Church Italian Feast for dinner. RSVP by April 24. More information
EOORC Report Book
Coming soon
Live Stream
Live streaming will be available on May 1 and 2, 2020.